It's been three months since my last post; definitely time for an update! Life has been good, and the days have been very full. I needed to step away from the blogging world for a little while, but I missed it! Here are just a few of the highlights that I wanted to share:
February…
Bryn turned ten and had her first sleepover with a few friends. Thanks to tickets from a generous friend, we visited all four Disney parks in one day. Whew! Shay turned Sweet Sixteen on Valentine's Day. One of her best friends that she met at music camp last summer traveled all the way from Texas to celebrate with her. We helped my dad celebrate his 80th birthday.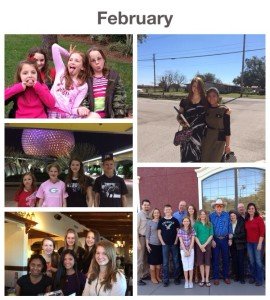 March…
I had another birthday (I have to figure out how to stop having those!), Steven and I celebrated our 19th anniversary, and we traveled to West Virginia for spring break. I drove in the snow for the first time, and the kids made a snowman that looked a lot like Olaf.
April…
Many afternoons were spent at the softball field with Bryn. Her team was undefeated! Shay attended her high school banquet. All three of the girls had their annual piano evaluations at Student Day. Steven preached at a Bible conference, and we were able to spend a few quiet days at the beach.
May…
The next few weeks are going to be busy ones. Big things are happening. Details to come…