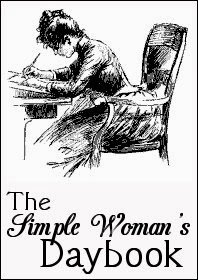 FOR TODAY~ September 8, 2014…
Outside my window… it's overcast but pleasant. We had some hot weather last week, so it's been nice to have a little break the last couple of days.
I am thinking… about how we will celebrate Steven's birthday this weekend.
I am thankful for…friends that pray for me without me having to ask them to.
In the kitchen…prepping potatoes for the oven to go along with hamburgers for supper.
I am creating…stickers for my planner.
I am going…to the post office to mail a few letters.
I am wondering…where I put my paper trimmer. I used a few weeks ago but have no idea where on earth I put it afterward. I've been doing that a lot lately.
I am reading…in my Bible: Revelation; just for fun: the latest copy of Woman's Day.
I am hoping…that we get some interest on our Florida home that's for sale.
I am looking forward to…getting out the fall decorations soon. I'm going to try to wait until later in the month.
I am learning…that there are people all around me who are hurting and need to know that someone cares.
Around the house…Flylady says that it's time for a deep clean in the kitchen. My other main project this week is to unpack the final two boxes of picture frames in the living room. I've had the hardest time figuring out where to hang them all. I'm so tired of seeing those boxes in the corner, so I'm just going to go ahead and put them up.
A favorite quote for today…
"Each time, before you intercede, be quiet first, and worship God in His glory. Think of what He can do, and how He delights to hear the prayers of His redeemed people. Think of your place and privilege in Christ, and expect great things!" ~Andrew Murray
One of my favorite things…clean sheets on my bed.
A few plans for the rest of the week…a few appointments, lunch with friends, a football game, church directory photo session, and my hubby's birthday celebration.
A peek into my day…this mama and her baby have been frequenting the backyard again. The last few days they've hung around even when I step outside to get their picture.