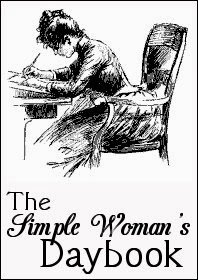 FOR TODAY~ September 22, 2014…
?
Outside my window…it's chilly out after a brief rain shower earlier. The thermometer says it's 61 degrees. That seems about right, since summer ends late tonight.
?
I am thinking…that this week's calendar is pretty full.
?
I am thankful for…yesterday's Sunday school lesson on the privilege and power of prayer.
?
In the kitchen…I've got a candle burning in the window, and cookies are baking in the oven.
?
I am creating…a grocery list for my shopping trip later this week. It's amazing how we seem to run out of everything at once.
?
I am going…to run a couple of errands after lunch.
?
I am wondering…whether or not I should start packing up some of our summer clothes.
?
I am reading…in my Bible: Psalms; just for fun: Real Simple magazine.
?
I am hoping…that I will be be able to get a hair appointment scheduled some time this week. I'm desperately in need of some highlights and lowlights.
?
I am looking forward to…seeing the leaves start to change color. I can already see the tiniest bit of difference in the shades of green.
?
I am learning…that things aren't always as they seem.
?
Around the house…I'm hoping to put out my fall decorations this week, if I can find where they are packed away. Autumn is my favorite season, and I always enjoy decorating for it.
?
A favorite quote for today…
The cheerful, joyous season,

The autumn time has come.

With song and shout we welcome

The Golden Harvest home. -Author Unknown
One of my favorite things…listening to my kids laugh. Last night Bryn was rolling around on the floor playing with our dog, and she was laughing so hard. It was one of those belly laughs that just wouldn't stop.
?
A few plans for the rest of the week…appointments, grocery shopping, a football game, a cross country meet, and piano lessons.
?
A peek into my day…
?
?