I thought it would be fun to take part in some blogging memes. That's how we old-school bloggers got to know one another better back in the pre-social-media days. While browsing through my blog archives, I realized that my last Daybook post was over five years ago! Let's see if I can remember how this goes…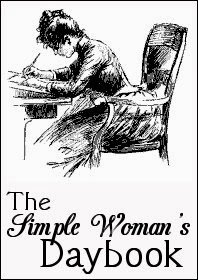 FOR TODAY~ August 25, 2014…
Outside my window…it's bright and sunny, and the treetops are barely swaying.
I am thinking…about what I need to accomplish this week.
I am thankful for…a safe trip to the orthodontist's office this morning, a mere 55 miles away.
In the kitchen…cream cheese cookies are on the cooling rack so that Steven can take them to the men's fellowship tonight.
I am creating…a to-do list for the week.
I am going…nowhere for the rest of the day.
I am wondering…whether or not I should wash my truck later today.
I am reading…in my Bible: I Timothy; just for fun (or not-so-much-fun): the school's parent/student handbook.
I am hoping…that the kids have a great day at school.
I am looking forward to…reading on the back porch this evening.
I am learning…to get directions from the locals and ignore the GPS.
Around the house…tidying the kitchen.
A favorite quote for today…
But as it is written, Eye hath not seen, nor ear heard, neither have entered into the heart of man, the things which God hath prepared for them that love him. ~ I Corinthians 2:9 KJV
One of my favorite things…quiet solitude.
A few plans for the rest of the week…errands, letter writing, mid-week church service, a football game, and piano lessons.
A peek into my day…
Someone from church blessed us with a large bag of garden-fresh vegetables. Wasn't that nice? We've received quite a bit of produce over the last few weeks, and it has really helped stretch our grocery budget. I never get tired of fresh veggies!