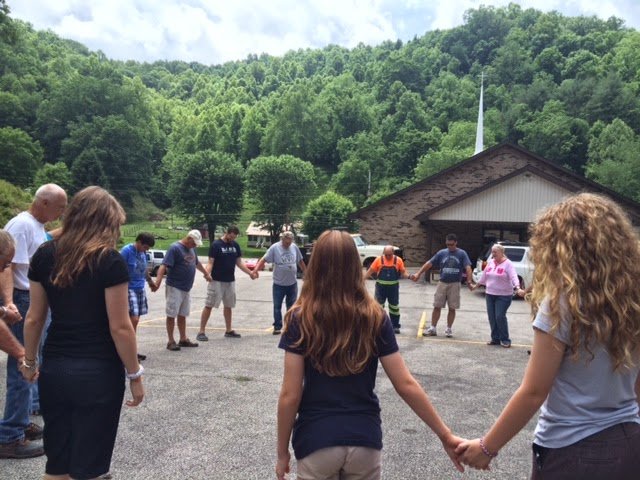 Joining hands for prayer before unloading the moving truck in West Virginia
We left Florida early Monday morning, spent the night in North Carolina, and arrived at our new home in West Virginia around noon on Tuesday. About twenty people from the church were waiting to welcome us and help unload the moving truck. After a quick lunch prepared by some of the ladies, everyone got to work. It took just over an hour to unload the truck, which was ironic considering it took two entire days to load it! My goal for the day was to have a functioning kitchen and the beds in place. With the help of so many, we were able to pillow our heads on our own beds that night.
Wednesday was spent unpacking boxes and trying to find a place for everything. Our new home, while plenty big enough for us, is quite a bit smaller than our Florida house. I'm actually glad about that. A smaller home will be easier to clean, and I think we will spend more quality time together as a family not being spread out all over the place. We had our first church service Wednesday evening, and it touched my heart to see how excited the church folks were that we had finally arrived after months of anticipation. The elementary aged kids and teens had classes while the adults were in Bible study. Hope and Bryn had not visited West Virginia with us before, so they didn't know what to expect at the church. They were pleasantly surprised to see so many young people for such a rural area. There were 15 children in the elementary group and 17 in the teen group. Everyone was very friendly and welcoming.
Thursday we went to the "big" town about an hour and fifteen minutes away to return the rental truck and do some shopping. I was dreading that initial trip to Sam's Club; I think I spent enough to keep that store in business for at least another week! We arrived home just before dark. It was a long day, but relaxing and productive after several stressful days.
Yesterday we kept unpacking. Bryn and Case went "mudding" in a Polaris four-seater with some folks from the church. Apparently that is quite popular around here. With all the rain we've been having each evening, there was an abundance of mud! Today I'm going to try to finish unpacking my bedroom and bathroom and get them set up since I'm just about through with the main living areas. It's wonderful to finally be able to see some floor space again!
It was very hard to say our goodbyes to family and friends in Florida a few days ago, but already we have been shown so much love by our new church family. The smiles, hugs, food, and kind words of welcome have gone a long way to comfort my tender heart. I know there will be some challenging days of homesickness in the future, but I have absolute peace about this move. Knowing that God's hand has been in this from the very beginning gives me all the assurance I need. I want to thank all of you who have prayed or emailed me encouraging words. God has been so good!