Good Monday morning, Friends! It's chilly, overcast, and rainy at my house today. Doesn't that sound delightful? I'm thankful for a warm, cozy house and my fuzzy slippers.
We had a nice weekend. Saturday morning whizzed by. I made the drive to a nearby town to do some grocery shopping and also picked up the proceeds from my most recent consignment store drop off. I usually donate most of the kids' outgrown clothes to our local thrift store, but occasionally I consign some of the nicer items and use the proceeds on new purchases. Every little bit helps!
After I got back home, I put a turkey breast in the oven to cook so that I could take it to our ladies' Christmas party at church later in the day. Our ladies group always has a great time fellowshipping together. I am so thankful for the ladies in our church! We enjoyed a delicious meal and exchanged gifts. Those who participated in the Secret Sister swap learned who their Secret Sister was for this past year. I received a frilly purple apron, a box of gourmet chocolates, and a yummy scented candle from my Secret Sister. One of the ladies shared a very timely devotional entitled "Serving a Cup of Christmas" about how we should fill our cups to overflowing with cheer, love, joy, memories, and hope during the Christmas season. She gave each of us a special Christmas mug to serve as a reminder of what we should be focusing on in the midst of this busy month. The picture below is the mug I received.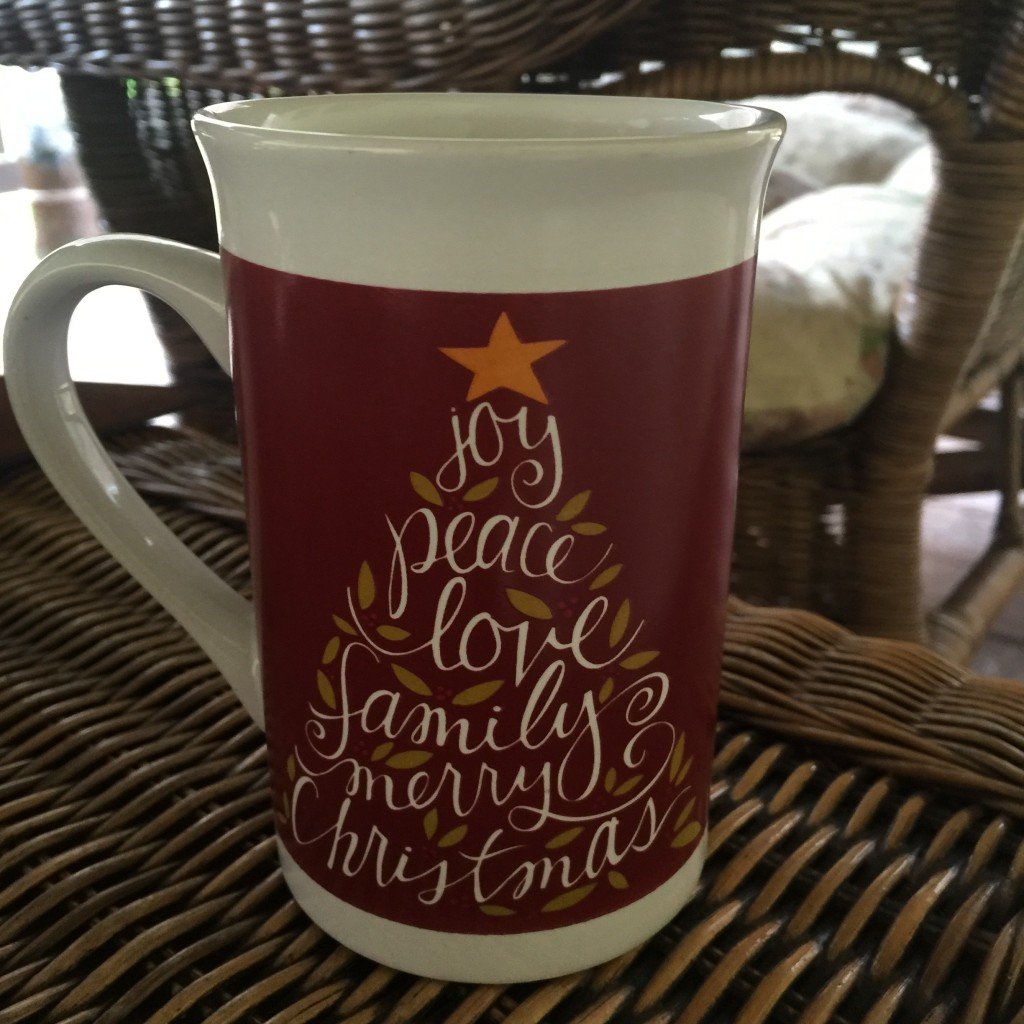 Saturday night we had the first of our family Christmas movie nights. I don't know that I have made a conscious effort to actually put these movie nights on the calendar before, but I've added them this time around. Steven got the first pick, and he chose Scrooge, his favorite Christmas movie. He only likes the Albert Finney version from 1970. Despite my valiant effort to stay awake, I apparently fell asleep on Steven's lap at some point because he woke me up as the final credits rolled. Oh well, I tried!
Sundays are busy days and just seem to fly by. I always enjoy the chatter of my junior high Sunday school class. Most mornings they are full of energy, and yesterday they had plenty. My heart was stirred by the choir special about our Saviour during the worship service, and Steven preached a great message from Romans 6. I was able to sneak in a short nap after lunch, and then it was back to church for choir practice. I got to love on five little ones in the nursery during the evening service. So, yes, Sunday was a busy day; but it was a very good day.
I'm off to tidy up the house, take a peek at my weekly calendar, and then get ready to drive to the girls' basketball game this evening. Have a wonderful day!