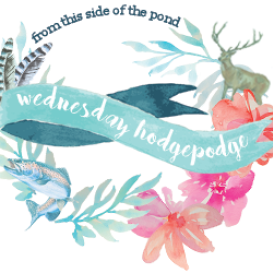 1. Setting aside the real March Madness (NCAA Basketball) describe something happening at your house this month that might earn the title 'March Madness'.
Although it seems like things are never slow around our house, March hasn?t been too chaotic of a month. We?ve actually had time to watch some of the college games on television.
2. What's a favorite made up word from your childhood or a favorite from your children's childhood? Does your family still use the word today? If there's a story behind the origin please share.
I wish I had done a better job of writing down the funny things my children said when they were little. A couple always come to mind. Our Curly Girl was famous for saying ?ingradulashins? instead of ?congratulations,? and our son had a gift for butchering famous people?s last names, like Arnold ?Switchenswagger.?
3. Will you be doing any spring cleaning now that the season is upon us? I read here a list of 15 quick (under one hour) spring cleaning tasks. They were- clean out a drawer, vacuum furniture, whiten tile grout, dust the nooks and crannies you don't get to year round, degrease kitchen cabinets, wipe down walls, go behind furniture, wipe down ceiling fans, vacuum the mattress, clean the range hood, wash baseboards, shine the stainless steel, clean out vents, tackle the windows, and wipe down gadgets.
It seems like I?m always cleaning something! I will do a deep clean after our spring break is over. Washing window treatments and windows, spraying down the back deck and deck furniture, and switching out our seasonal clothes are the main tasks to accomplish. If you are a list maker like I am, you might like these free printable spring cleaning checklists I found?here.
Of the fifteen 'quick' tasks listed which two most need doing at your house? Will you do them?
I will definitely do some detailed dusting, especially the hard-to-reach places and baseboards, and tackle the windows.
4. A favorite movie set in Paris or New York?
You?ve Got Mail (NY)
5. What's put a spring in your step this month?
Now that basketball season is over, we have more time at home together as a family in the evenings. I?ve enjoyed eating meals together, talking about everyone?s day, and laughing more as a family. The extra daylight at the end of the day gives me a little extra pep, too.
6. Did you ever want to be a teacher? Why or why not?
When I was growing up, I did not have a desire to be a teacher. I remember saying that I would never want to be a teacher, that I just didn?t have enough patience to deal with kids all day long. I wanted to be a lawyer instead. Ironically, God ended up leading me to become a teacher. I taught in a school for several years, homeschooled my children, and was an elementary school principal.
7. ?What's your favorite floral scent? Do you have this somewhere in your home or maybe in a perfume? How do you feel about florals in food? How about wines with floral notes-yay or nay?
I am not a huge fan of floral scents, but I do like orange blossoms and jasmine. Growing up in central Florida, I got used to smelling all the orange blossoms on the trees twice a year. When we lived in Georgia, we had jasmine trailing around the lattice of our front porch, and I loved it! I used to think that jasmine rice must have a floral essence in it, but then I did some research and found that it is named jasmine due to its color, which is as white as a jasmine flower.
8. Insert your own random thought here.
The kids will be on spring break next week, and I think that I am looking forward to it as much as they are!