Here is a one of my favorite squash casserole recipes that I especially enjoy on a cool fall day. I sometimes add some zuchinni to the yellow squash for a little variety. If you are a cheese lover, than you will definitely want to try this one!
Good Squash Casserole
8 medium yellow squash, thinly sliced
1 stick of butter
1 1/2 cups onion, coarsely chopped
2 cups milk
2 1/2 cups cheddar cheese, shredded (10 oz.)
1 tsp. pepper
2 tsp. salt
4 eggs
2 1/2 cups fresh bread crumbs
grated parmesean cheese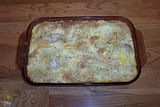 ~Boil squash until tender; drain.
~ Saute onion in butter until soft; combine in bowl with squash.
~ Add remaining ingredients (except bread crumbs) and mix.
~ Place in a casserole dish and top w/bread crumbs. Sprinkle parmesean cheese on top.
~ Bake at 350 degrees for 35-45 minutes.
Yield: 8-10 servings