I didn't getting around to participating in the linkup last week because we were enjoying another round of house guests. I'm back today to share some blessings from this week and will include a few from last week, too. Thank you, Susanne, for hosting Friday's Fave Five.
1. We just finished up a nice visit with Steven's parents. His mom flew in early last week, and his dad arrived on Monday. The kids were excited to help their Papa celebrate his 79th birthday while he was here.
2. Tuesday evening was the monthly Ladies' Night Out fellowship for the women in our church. One of the ladies gives a short devotional during the meeting, and it was my turn this month. Since we've only been at the church for two months and the ladies don't know me that well, I decided to give my testimony. Hopefully it was an encouragement to someone who heard it. I enjoyed the yummy food, the special music, and the opportunity to get to know the ladies of our church a little bit better.
3. Case participated in his first 5K race and finished in third place in his age division with a time of 21:42. He has his first high school cross country race tomorrow. I think he was chomping on ice in the second picture.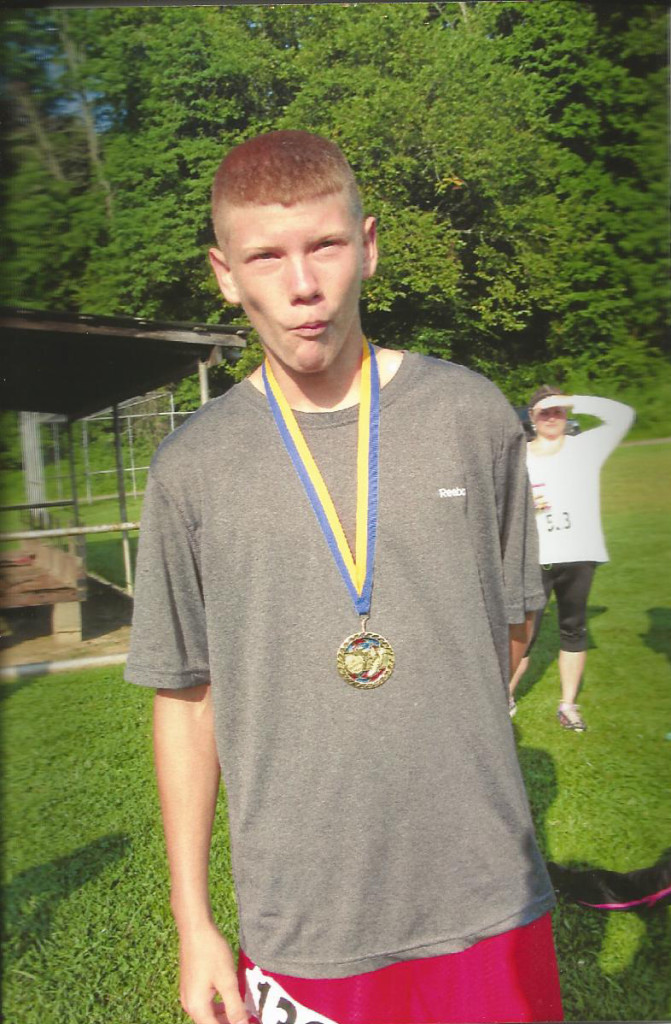 4. Thanks to the the help of a friend from church, we've finally found a piano teacher for the girls here in West Virginia. Their teacher is a college instructor and has many years of experience both performing and giving lessons. She has a cheerful, outgoing personality. The girls each learned a lot from her during their first lesson. The only drawback is that it's a three hour round trip drive. Finding a qualified piano teacher is a huge answer to prayer!
5. Steven stopped in an antique store on his way to the airport and picked up a couple of goodies for me. These 401 and 403 Spring Blossom mixing bowls are a nice addition to my Pyrex collection. I'm thankful for a husband who goes out of his way to do special things for me.

We have a busy weekend ahead of us. It starts tonight with football scrimmage for Case, his cross country race tomorrow, and the girls' piano lessons tomorrow as well. Lots of time on the road. I hope your weekend is a safe and happy one.