Happy Friday! I?m linking up with?Susanne?to share five happy things from this week. Feel free to join us and share some of your blessings, too.
1. I?m stretching back to last week for my biggest fave. Steven and I celebrated our 20th wedding anniversary on the 24th of March. Needless to say, this was a very special day for us. Time has flown by, and God has been faithful to keep our marriage strong.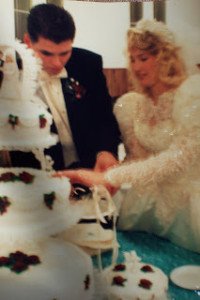 2. The girls and I attended a percussion ensemble concert at the local college. The ensemble was super talented, and we enjoyed our "girl time."
3. Our church choir presented its Easter cantata on Palm Sunday evening. Everyone involved did a great job. I think that having the cantata before Easter Sunday was a smart idea because it enabled folks from other churches who didn?t have services that night to attend, and it also helped prepare hearts for Easter week as we celebrate Christ?s victory over death.
4. Shay and I took a day trip to preview the music program at a college a couple hours away from us. It's hard to believe that we are to that point with our firstborn! On the way home, we stopped by a thrift store that I had visited a couple of times before. It?s always hit-or-miss, but this time was a definite hit. I found a?thirty-one??utility tote, in new condition, and it was monogrammed with my initial. I snatched it up for $2, ran it through the gentle cycle in the washing machine (even though it?s not recommended), and now I have a pretty tote to put to good use. I just love the bright colors and butterflies!
5. Warmer weather arrived after last weekend?s snow, and that got me thinking about how blessed I am to have healthy children. Not one of them has been hospitalized since they were babies. They made it through our first snowy winter with just one of them having more than a sniffle. I am so thankful that God has blessed them with good health, and I hope that I never take that for granted.