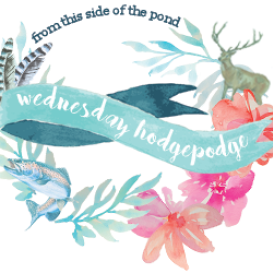 *Thank you to Joyce for hosting the weekly Hodgepodge. She provides the questions, and the participants share their answers.
1. May 17th is National Pack Rat Day. Sidebar-should we be celebrating this? Hmmm…Are you a pack rat? Even if you're not a full fledged pack rat, most people have one thing or another they struggle to part with. Tell us what's yours.
Oh, my goodness, where do I begin? I am definitely a hoarder pack rat. I have a hard time getting rid of emails, digital photos, clothes, and shoes. I?m sure my husband could add several more things to the list if you were to ask his opinion.
2. What are two things you know you should know how to do, but you don't?
I don?t know how to change the oil on a vehicle or how to replace a leaky faucet. I should learn how to do both (but I probably won?t).
3. Do you crave sugar? Do you add sugar to your coffee and/or tea? Do you use artificial sweeteners or sugar substitutes? When dining out is dessert a given? Are you someone who has slain the sugar dragon, and if so tell us how you did it.
I have always had a bit of a sweet tooth. Chocolate is my weakness. In recent years, I?ve cut back and sometimes eliminated sugar altogether from my diet. I am usually a water drinker, but I do put French vanilla creamer in my coffee. I?m usually too full from my meal to eat dessert at a restaurant, but sometimes Steven and I split any type of brownie sundae. The only way for me to really lessen my sugar intake is to cut it out completely, cold-turkey. After two or three days, the cravings are gone.
4. What's a trend it took a while for you to come round to, but now you can't imagine living without?
I wasn?t an early jumper onto the essential oil train, but I?ve been using oils from Edens Garden for a while and have definitely seen the benefits. I now have an oil for just about any ailment.
5. What's a song that reminds you of a specific incident in your life? Please elaborate.
My answer isn?t very original, but every time I hear ?Pomp and Circumstance? my mind goes back to my high school graduation. It?s hard to believe that next week will mark twenty-three years since I received my diploma.
6. Insert your own random thought here.
After contemplating question #1 for a while, I deleted 1,480 photos from my iPhone. I had over 4,000 on there, so I'm making some progress. Baby steps!