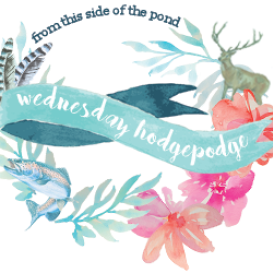 *Thank you to Joyce for hosting the weekly Hodgepodge. She provides the questions, and the participants share their answers. Feel free to join in!
1. The Hodgepodge lands on June 14th this week, Flag Day in the US of A. Do you fly your country's flag at home? Sometimes, often, or every single day? Have you ever visited the city of Brotherly Love (Philadelphia)? Did you make a point of seeing The Betsy Ross House? Have you ever made a trip to Baltimore? If so, was Fort McHenry on your itinerary? (where Francis Scott Key was inspired to write The Star Spangled Banner)
I hang an American on my front porch on special holidays, but I don?t have one displayed on a pole in my yard all the time because I do not have a means of keeping the flag lit at night. I think if the flag is going to be displayed at night, it should have a light shining on it, according to flag etiquette. I haven?t been fortunate enough to visit historic landmarks in Philadelphia or Baltimore, although my state borders both Pennsylvania and Maryland.
2. Red flag or white flag? Which have you encountered most recently? Explain.
I guess I have encountered a few red flags recently. My kids have finished up another year of school, and our church wrapped up a week of Vacation Bible School. I'm also having to wait for answers on a couple of things, and that's hard for me to do.
3. Are you a stay-in-the-car listen-to-the-end-of-a-song kind of person? What kind of person is that?
If a favorite song is playing, and I don?t get to hear it very often, I will turn off the engine (or leave it running if it's super hot or cold outside) but still sit there listening to the song. Music seems to bring out my nostalgic side, especially songs from when I was a teenager. I love satellite radio!
4. What are some of the traits or qualities you think a good dad possesses? In other words, what makes a good dad?
There are too many important qualities to name here, but I will list a few that my husband possesses. He's not a perfect dad, but he is the best one I could ever have dreamed of having for our kids.
A good dad shows unconditional love and support to his children and their mother. He has a good sense of humor, is dependable and trustworthy, and is a good provider. He's a man of good character and integrity. I think the most important quality would be that of having a personal relationship with Christ and having a desire to see his children come to know Christ and serve Him.
5. What's one rule you always disagreed with while growing up? Is that rule somehow still part of your adult life? Is that a good or bad thing?
When I was growing up, I wasn?t allowed to spend the night at my friends? houses. I can count on one hand the number of times I went to a sleepover. It used to make me so mad! In hindsight, I?m glad that my mom had this rule. It definitely kept me from being exposed to things that would not have been good for me. Ironically, I've carried this rule over into my parenting. My four teenagers can also probably count the times they?ve spent the night with a friend. They don't like it any more than I did.
6. Insert your own random thought here.
I mentioned that our church hosted VBS last week. Because we schedule VBS during the evening, a team of ladies prepares supper for all of the VBS attendees each night. This year?s decorations had an ?Under the Sea? theme. One of our talented ladies created these watermelon sea creatures. I thought they were so cute!