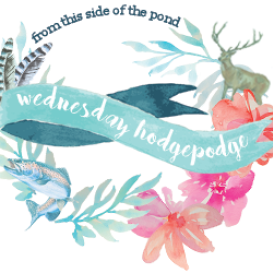 *Thank you to Joyce for hosting the weekly Hodgepodge. She provides the questions, and the participants share their answers.
1. April showers bring May flowers or so the saying goes. Has your April been filled with showers? Do you carry an umbrella, wear a slicker, or make a run for it? Besides rain, what else has filled your April?
The month of April has flown by. During my time in Florida, it didn?t rain at all. In fact, Florida has recently been plagued with wildfires. The evening I flew home, our landing was delayed by a rainstorm. We have had rain here and there throughout the month. I keep at least one umbrella in my vehicle all the time, but I often wear a rain jacket if I?m going to be running errands in town because it?s too much of a hassle to deal with the umbrella when constantly getting in and out of the truck.
2. What's something you could you give a 30-minute presentation on at a moment's notice and with zero preparation?
I could do an impromptu presentation on education, vintage Pyrex, HTML & CSS, my favorite books, home organization, the life of a pastor?s wife, or motherhood. I?m definitely not an expert on any of these topics, so I guess that means I'm just capable of babbling incessantly.
3. Share with us a favorite food memory from childhood.
For my 5th birthday, my mom took me and my cousin to Disney World. I don?t remember much about that day at the most magical place on Earth, but I do remember going through the McDonald?s drive thru on the way home and getting a Happy Meal. Do you remember how McDonald?s used to be really creative with their Happy Meal containers? Well, that particular day the Happy Meal came in a plastic UFO container. Mine was red. It included a sheet of little stickers to decorate the UFO with. It was my all-time favorite meal from Mickey D?s.
4. What's a song you thought you knew the lyrics to, but later discovered you were wrong?
Growing up, we often sang the hymn "Just As I Am" during the closing invitation. We sang it so often, hardly anyone actually used the hymnal. When I finally looked at the lyrics, I realized that I had been messing up a couple of the verses. I felt silly and wondered if anyone else had noticed.
5. According to one travel website, the most overrated tourist attractions in America are-?Niagara Falls (NY), Hollywood Walk of Fame (California), Times Square (NYC), Epcot (FL), Seattle Space Needle (WA), and Faneuil Hall and Quincy Market (Boston). How many of these have you seen in person? Did you feel like a tourist? Did you care? Tell us about a place (not on the list) you've visited that might be considered a tourist trap, but you love it anyway.
I am not a well-traveled girl. The only place from the list I?ve visited is Epcot, and that was probably because I lived in Central Florida for most of my life. My favorite tourist trap is the city of Savannah, Georgia. Steven and I spent our anniversary there a few years ago. I felt like a tourist, but it seemed like most of the other people there were as well. I also love visiting Washington, D.C. There's just so much history there. My hubby has been to Niagara Falls, Times Square, and Quincy Market. One touristy place we would like to visit together is Fenway Park in Boston.
6. Your signature clothing item?
Shoes. Cute shoes. Always.
7. What's an experience you've had you think everyone should experience at least once? Why?
I?ve been blessed to stand on the shore of the Gulf of Mexico many times and watch the sun set on the horizon. I always get goose bumps. God?s glorious creation is breathtaking and is a reflection of His greatness.
8. Insert your own random thought here.
A quote from my husband?(not original to him):
April showers bring May flowers, and May flowers bring PILGRIMS!!